Veterinarian
Dr. Samantha Holter

Veterinarian / Owner
Dr. Holter grew up in Tomball, Texas. She graduated from Ross University School of Veterinary Medicine in 2015, after completing her clinical year at Texas A&M School of Veterinary Medicine. Since graduation, Dr. Holter has spent 3 years working in emergency medicine, and the last two years working in The Woodlands at a small animal day practice. Dr. Holter brings her years of experience in surgery, critical care, and general health and wellness care to our furry patients. Dr. Holter strives to make every pet feel comfortable and at home. This includes getting on the ground to play or snuggle with her patients, and giving them lots of treats to make their experience as positive as possible.
Dr. Holter met and married her husband, Dr. Donald Holter, while they were in veterinary school in 2014. They are the proud parents of a French bulldog named Mowgli, a Pitbull named Baloo, and two cats named Bagheera and Winky. On the weekends you can often find Dr. Holter working on her family's ranch where they raise cattle.
Staff
Amanda

Practice Manager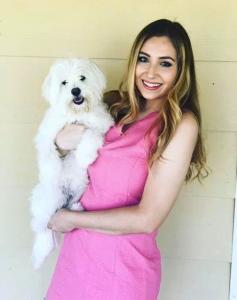 Amanda recently graduated from Texas A&M with a degree in Animal Science. She loved living in College Station so much that she decided to stay! She has experience with both small and large animals, and worked at a vet clinic throughout college.
Amanda adopted her two dogs, Lulu, a spunky Mini Aussiedoodle, and Abby, a sweet GSD. She also has two horses, a donkey, and a barn kitty who live on her family's hay farm. Most of her pets were adopted, and rescues have a special place in her heart.
In her free time, Amanda enjoys walking her dogs, taking road trips with her friends, and spending time in the kitchen cooking and baking.
She has a passion for helping owners provide the best care for their pets and is excited to meet you and love on your fur-babies!
Dean, LVT

Licensed Veterinary Technician
Dean is from Stryker, Ohio and is currently enrolled in an online program at Tarleton State University seeking a bachelor's degree in veterinary technology. He discovered his passion for helping animals and serving others while he was in the Marine Corps. After leaving the Marine Corps Reserves in 2017, he finished Vet Tech school and became a Licensed Veterinary Technician and has 8 years of experience working either as a kennel technician or a veterinary assistant.
Dean is a proud Dad to his daughters' Bethany and Micaela who he enjoys spending his days with while he is not at BVAH. He also enjoys spending his time with his Great Dane "Groot" and tending to his 6 hens, 1 rooster, 2 cats, 2 ball pythons, 1 hedgehog and a swarm of bees.
His hobbies include riding and working on his Harley Davidson, running long distance races, reading and volunteering in the community.
He is excited to be apart of the Brazos Valley Animal Hospital team and looks forward to meeting you and providing the best care for your fur babies.
Julissa

Veterinary Assistant
Julissa is a junior at Texas A&M University, studying Supply Chain Management. She has two years of previous experience as a veterinary assistant and kennel technician. Julissa is very passionate about animals and helping others. Her goal is to graduate from Mays Business School with a business degree so that she will be able to combine Veterinary Medicine to help other Veterinarians succeed in the future.
She has a handsome pom pom she adopted named Chicken Nugget, a sweet kitty named Oreo, and a spoiled pot-belly pig named Honey Ham.
Not only does she enjoy being around animals, she is also certified in floral design under Texas State Florists' Association and she spends her free time making fresh floral arrangements.
Julissa's passion is to deliver the best patient care possible and to provide a safe, loving environment for your fur babies.
Natalie

Veterinary Assistant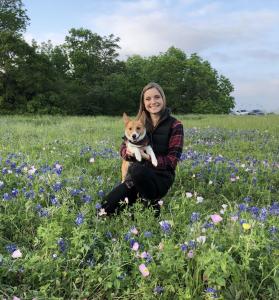 Natalie is from Tomball, TX and recently graduated from Texas A&M with a degree in Animal Science. She intends on furthering her education with a Masters in Biomedical Sciences to ultimately pursue Vet School. She has over 6 years of previous experience as a veterinary assistant and kennel technician.
Natalie is the proud mom to Renly, a sweet Pembroke Welsh Corgi, who keeps her on her toes and brings joy and constant laughter to her life.
An avid automotive enthusiast, she spends her free time working on her Mustang and riding around town on her motorcycle. A true outdoors girl, she also enjoys hunting, fishing, and camping.
She is passionate about establishing a strong bond with owners and to provide the best care possible for your fur babies as if they were her own!
Christina

Kennel Technician
Christina is a senior at Texas A&M University from Fort Worth, TX majoring in Animal Science and minoring in Biomedical Science. She has recently applied to Veterinary School and her interest is to become a Veterinary Epidemiologist or a Small Animal Veterinarian. She has had 3 years of veterinary assistant and kennel technician experience from her hometown and is very passionate about the medical field and animals, which allows her to continue to learn.
Christina currently doesn't have any pets but would one day love to own a bernese mountain dog, a cat, and a few goats. In her free time, she enjoys spending quality time with family and friends and being adventurous outdoors.
Her passion for medicine and animals helps her to be well equipped to provide the best quality care for all animal owners!
Mary

Groomer
Mary is originally from Oconomowoc Wisconsin, she was trained by a master groomer when she lived in Northern California, and has been grooming for 20 years! Mary is very excited to join the BVAH team because of their emphasis on the comfort and safety of the animals in their care.
On her free time, Mary enjoys woodworking and DIY projects. These projects usually benefit her own animals, which includes: 4 dogs, 4 horses, miniature Hereford cattle, giant Flemish rabbits, ducks, geese, a Conure parrot, 2 large aquariums with fish from around the world, and a very special chicken named Charlie. She also has a very patient and understanding husband who helps care for their little farm!
"I feel really fortunate that I've met a lot of other people in the grooming industry that have shared their knowledge so that I have been able to continuously grow professionally and personnaly. I never want to stop learning!" - Mary